Best Ergonomic Crochet hooks for Carpal Tunnel and Arthritic Hands
Best Crochet hooks for pain. An ergonomic crochet hook is designed to help alleviate pain in order for you to crochet longer and prevent stress. Most crochet hooks ergonomic crochet hooks have an enlarged handle that are more comfortable to hold while you crochet. While some hooks just have a thicker handle and others provide a contoured shape for the handle. In order to decide what type of handle works best for you check out these crochet hook recommendations.
For years I used an inexpensive aluminum crochet hook that suited my crochet needs. But as my crocheting experience progressed I decided to invest in better quality ergonomic crochet hooks. While there are so many different types of crochet hooks that you can purchase it comes down to what works best for your situation. Whether you struggle with pain in your wrists or hands while you crochet or are just looking for a better feel the design of the crochet hook will make a difference.  You should enjoy crocheting without pain or discomfort.
Amour Crochet Hooks
Because of the wider, easy to grip handle on this set of crochet hooks it will provide hours of comfort while you crochet. Plus the variety of colors allows you to identify the size of the hook better. You can work longer without pain. The grips are soft and comfortable.
Amour Crochet Hooks available at
KnitPicks – Best Price free shipping


Soft Touch Steel Crochet Hooks
We also like the Soft Touch Steel Crochet Hooks because they are lightweight and designed to make crocheting comfortable.
Inexpensive Crochet Hooks
If you are looking for a less expensive ergonomic crochet hook set for under $10 try out the Bright Crochet hook set.  The crochet hooks are lightweight, easy to hold and come in their own case.
Ergonomic Aluminum Crochet Handle, 9pcs
Add a handle to your existing crochet hooks instead of purchasing a whole new set! Boye Ergonomic Aluminum Crochet Handle reduces stress while providing comfort & support to your hands while you work. Fits all hook sizes from size B (2.25mm) to size K (6.5mm). Includes 1 handle & 8 washers in assorted sizes.
Crystalites Multipack Crochet Hooks
Crocheting is more fun than ever with these cheery, bright hooks. They're lightweight and easy to hold for all ages, and high-quality acrylic glides through yarn. Each size is a different color for easy identification. Treat yourself to both packs — basic sizes G to K, and sizes L, M, N and P for use with the new fluffy textured yarns.


Lion Brand® London Kaye® Hook Set   These unique hooks with an ergonomic design that help make crocheting easy and fast.

  Clover Soft Touch Crochet Hooks
Susan Bates Crystalites Crochet Hooks
View Crochet Hooks on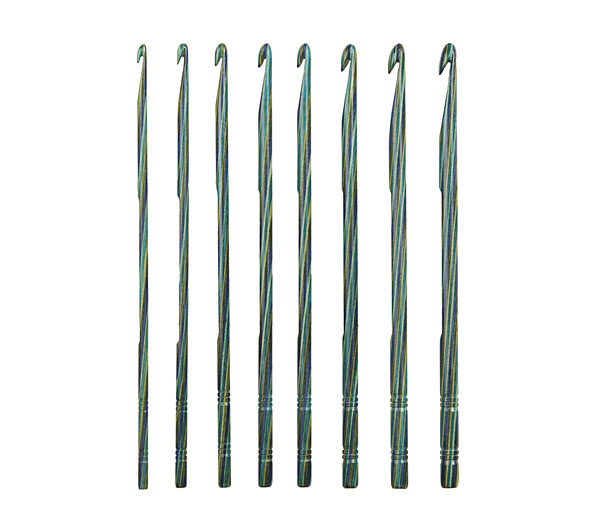 Caspian Wood Crochet SET (3.5, 3.75, 4.0, 4.5, 5.0, 5.5, 6.0, 6.5 mm) 8 sizes from KnitPicks.com

Boye Crochet Hook Set Ergonomic 12pc 
Related Articles
Review of Crochet Scrappy Afghan Patterns
Free Easy to Crochet Basket Patterns
Crochet Spring Collection Patterns
Beautiful Elements of Irish Crochet Shawl Pattern