How to Throw a Halloween Party for Kids

Halloween Party Ideas for Kids
Best Halloween Party Ideas for Kids!
Great Halloween Party Start with with decorations and invitations ! You don't have to spend a fortune to make you Halloween party fun!  Just check out your local Dollar Tree store or order the items online and pick them up at your store in time for you Halloween party.
Whimsical decorations and fun costumes, plus some Halloween treats and games are all the kids need to have a happy Halloween.  Create a scary good time with a Halloween tablecloth, plates, and bowls.  Add in some spooky ghosts, a few pumpkins, skeletons and your own your way.   Kids will enjoy eating finger foods from popcorn to simple Halloween cupcakes
with orange and yellow icing.
You can also create a spectacular candy buffet for the kids to enjoy and fill up their treat bags with.
Here are a few more Ideas…
Download the Product Sheet from Dollar Tree for your shopping trip
Halloween party ideas that will make your event stand out among all the rest. Get inspired with our craft tags and shaped cut-outs for all of your party crafts. And, of course, no Halloween party
is complete without a boo-dacious candy buffet. Choose from our selection of Halloween candy
and then add themed treat boxes and candy wrappers. Top it off with DIY party wrappers around all of your candy jars and containers to bring your sweets table to life. Don't forget the Halloween Games
!

Pumpkin Patch – Everyday Party Theme
Pumpkin Patch is a great way to announce your fall event. Shimmering glitter mixed with the perfect fall shades of orange and green make Pumpkin Patch an everyday party theme that will get your guests excited about your autumn party.  READ MORE >>>

Trick or Treat – Halloween Party Theme
Calling all Ghouls and Boys – This is one Halloween party you won't want to miss! From pretty little princesses to cute mini monsters, everyone will love a Trick or Treat themed event. Our Trick or Treat Halloween theme is perfect for a school event, family celebrations or a costume party.  READ MORE >>>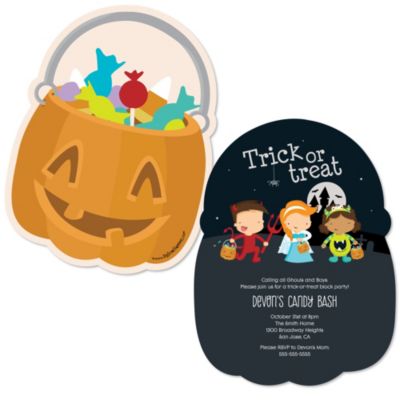 Trick or Treat – Shaped Halloween Party Invitations

Deluxe Child Little Red Riding Hood Costume
You may also enjoy
How to Throw a Football Themed Baby Shower
How to Make a Halloween Wreath Using Dollar Store Items
Download the Free Checkerboard Boo Quilt Pattern for Halloween