RJR Redwork Meets Bluework Quilt Kit – Quilting Kit includes Fabric & Pattern!
Make an American Patriotic quilt.  Create a classic American quilt with a modern twist using patriotic red, white and blue fabrics. There are lots of ideas, patterns, quilt kits and fabrics to use to make your own American quilt.  You can make a mini-quilt, a wall hanging quilt or a large quilt for a bed or couch.   Also be sure to Enter the Quilt a Day Giveaway.  The above Fireworks Quilt Kit features Red, White and Blue for the Fourth of July and when finished measures 54″ x 54″.  Get the Redwork Meets Bluework Quilt Kit Here.

Moda Polka Dots & Paisley by Minick & Simpson Frivol Tin #2 – Quilting Kit includes Fabric & Pattern!
You can create a modern classic Americana quilt.  This is a limited edition quilt kit that features patterns and pre-cuts to sew a 26″ x 26″ mini quilt.  You can Find the Quilt Kit Here. 
  Battle Warfare Patriotic Quilt Pattern – Download this patriotic quilt bursting with American pride and spirit!  Rising Star, Ohio Star and a variety of Four-Patch Stars made use of 5″ charms in this traditional queen-size quilt. If you like stars, this is the quilt for you.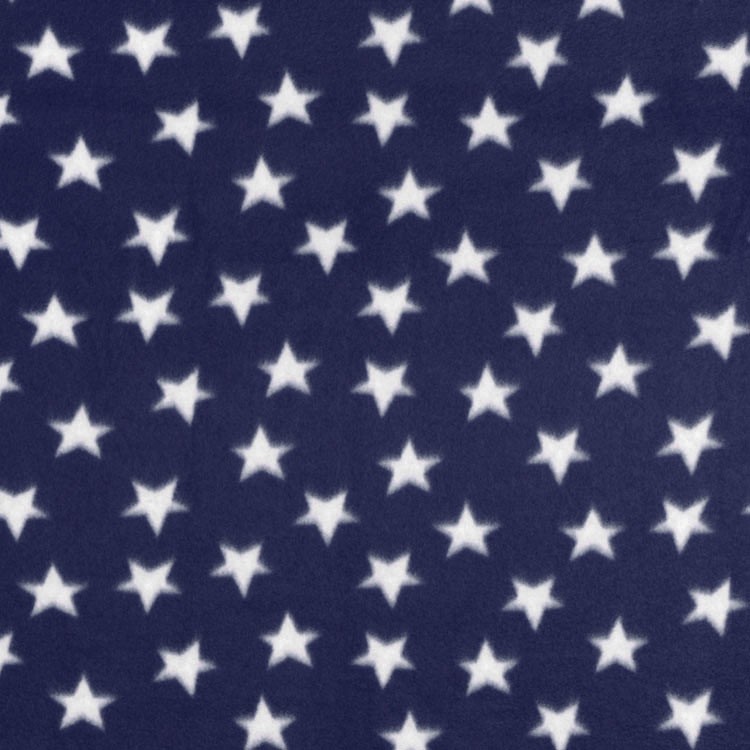 White Stars on Blue Fabric – Navy & White Stars Fleece Fabric would make a soft and comfortable blanket or item to make to snuggle up in showing your patriotic spirit.  Find the fabric here. or get the Stars Blue Fabric in 100% Cotton 
  Land of the Free Fabric Fat Quarters  – Show your American pride with this Red, White and Blue Fabric in a Patriotic theme.

Best of Fons and Porter Patriotic Quilts
Patchwork is patriotic in its own right, and it's absolutely glorious when it's overflowing with stars and stripes and fabrics in red, white, and blue! This big collection of the 30 best patriotic quilts.

Check out Boundless Solids America The Brave Precut Fabric


Patriotic Fabric-American Shores Fabric 


Patriotic Fabric-Peanuts? Fireworks