Yarn Guides help Protect Your Finger for Crochet or Knitting
One of the best things that you can do to protect your finger or fingers from dry skin, irritations or yarn burn is to use a yarn stranding guide
while crocheting or knitting. If you go for hours at a time with yarn wrapped around your finger a guide will prevent most irritations and rashes on your fingers.  Plus they peep yarns untangled and at an even tension while working on a crochet or knitting project.
I have read posts from crocheters all the time that they keep bandages or their fingers or even get fungus on their fingers from all the yarn that runs through their hands everyday.   Prevent yarn cuts and save your hands by using one of these for all of your projects. The Yarn Stranding Guides are affordable and comfortable.  Yarn Guides also help keep your yarn straight and organized. They are normally worn at the tip of your finger and will work for English or Continental knitters. To use the one above all you do is open the lid, and you will see four channels for yarn. Lay a strand of yarn in any of the channels, and snap the lid closed to secure. Here are a few of our favorite guides that you can order online.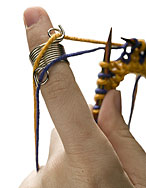 Wire Yarn Stranding Guide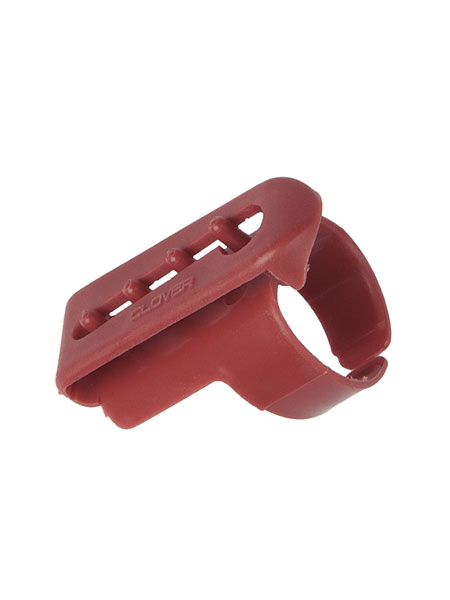 Yarn Guide to Help prevent sore fingers while you crochet or knit
  Yarn Guide Keep Your Yarn Straight and Organized
 Clover Yarn Guide  – This invaluable tool will keep two or more strands of yarn at your fingertips, separated and ready to work into your latest creation.
  Yarn Finger Guide 3 Ct  – Keeps yarn straight when working with more than one color at a time. Also helps with reducing calluses on your finger when doing timely projects.
Norwegian Knitting Thimble – Worn on the finger, the knitting thimble is used to control tension, eliminate chaffing or control multiple strands of yarn.