How to Create a Relaxing Oasis with a Garden Fountain
This post contains affiliate links
Garden fountains are a great way to create a relaxing oasis indoors or out.  There are several different indoor fountains and garden fountains that you can display in small and large sizes. Fountains are great for enhancing an outdoor space or creating a relaxing indoor space. Depending on what climate you are in you can use your outdoor garden fountain year round. If you are in a cooler environment just use a fountain cover
to protect your display in the colder months.
Here are some tips on how to choose the right fountain.  (View Indoor and Outdoor Fountains)
When looking for a fountain for your patio or indoor space consider learning about what types of fountains are available for your space.  Here are some things to consider when selecting the right fountain for your environment.
 Design – When you are looking at your overall landscape outdoors, decide why you want a water feature.  Is it meant to be a centerpiece or an accent in your garden. What will you be using the space for? Is this a space where you will be entertaining?  Consider how the flow of guests will be around the fountain. Noise levels should also be a factor both inside and out. Outdoors you may want the water feature to drown out noise from traffic or neighbors, indoors you may want to listen to something soft and quiet.
Weight – This is important both indoors and out depending on what type of surface you will be placing your fountain on. Your patio may not be able to handle the weight of a heavy cast stone. You may want to consider a

fiberglass fountain

which are lighter in weight for a patio. Wood patios will hold less weight than concrete patios. Most indoor fountains are made to be supported on floors and tables but always consider where you will be placing the fountain.
Overall Size and Shape – Once you have determined what weight is right for your fountain it's time to decide on the size and shape of the water feature.  Again, this will all depend on where you will be placing the fountain. Depending on your landscape, you may determine that you want it to be the focal point; if so, you'll want a much larger water feature. If you are unsure, you should review the dimensions of the fountain, both the height and overall shape. Choosing fountains with basins may not be an optimal choice if you have a small area. For example, a tall, tiered fountain over four feet in height may create the wrong optical appearance for a small backyard. Or, if you have a wall or corner area, consider using this space for your fountain. There are many styles of wall-fountains which are designed to be set against, or hung, on a wall.
Focal Point – You don't want a fountain to overwhelm an area whether you have it inside or outdoors. If the fountain is the centerpiece of the design, consider a thin, tiered fountain. For outdoors if you have a small area, try a pot-style fountain. If you are just looking for an accent piece, you may find the terrace sized fountains such as Campania Internationals mini-series fountains can add an element of water flowing while keeping the size in check.
Splash Factor – Last of all consider the splash factor of a fountain. Outdoor fountains will splash outside their barrier, to some degree. Indoor fountains are made to have little or no splash.If the water is landing on a surrounding area such as a patio, then the walking surface may become slippery. If you desire minimal splash, you should consider urn fountains which bubble and cascade down the sides of a fountain, versus multi-tiered fountains, which will have a higher level of splash. Adding flow restrictors onto fountain tubing will help cut down on the water that will flow to the top of the pump. Remember though to also keep in mind your original goals. The amount of sound your fountain makes is determined in part by the amount of splash one has.  Adding a fountain or water feature on your patio or deck can be a wonderful choice once you've determined what will work best for your home, lifestyle and needs.
 View All Indoor and Outdoor Fountains and Statues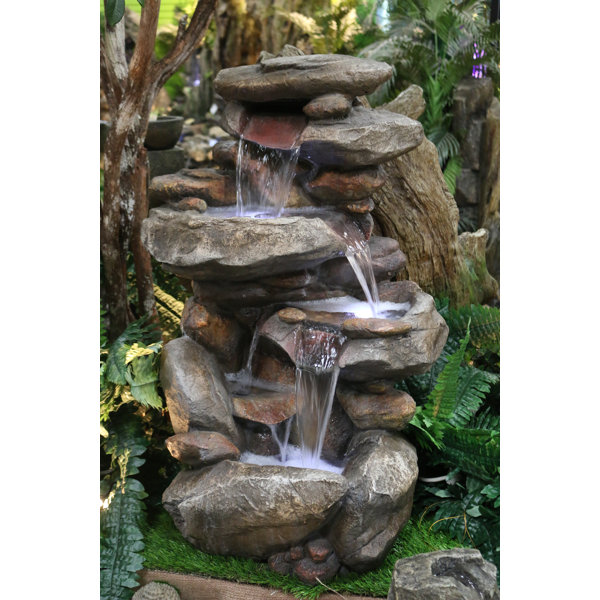 Fiberglass Rock Fountain with Light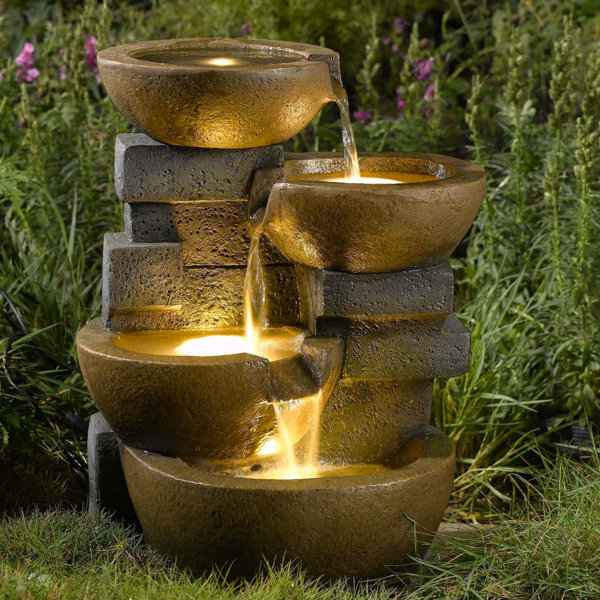 Resin/Fiberglass Zen Tiered Pots Fountain with LED Light