Pregnancy Photo Prop Signs to Announce a New Baby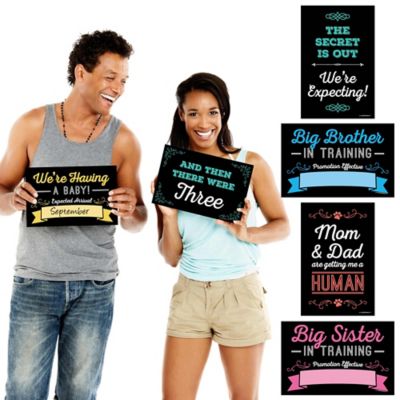 Pregnancy Announcement – 10 Piece Photo Props Kit
An arrival of a new baby is always brings great excitement and what a better way to announce that you are expecting than by sending a photo of your surprise!  A pregnancy announcement is great way to share your joy. Whether you are announcing your first baby or your third it's always a thrill to let family and friends know.  A kit such as the one above lets people know that you are having a little one.  The signs can read everything from Big Sister or Brother in Training, The Secret is Out, We're Having a Baby, Yep, Another One and even a sign for your pet to announce the big news! Check out the Photo Prop Kit Here.
There are several ways to let people know that you are expecting but the most unique ways are to make them last a lifetime by taking photos and videos. Be sure that your phone or camera if fully charged and ready to go to capture the excitement as you share your news.
How to Order the Kit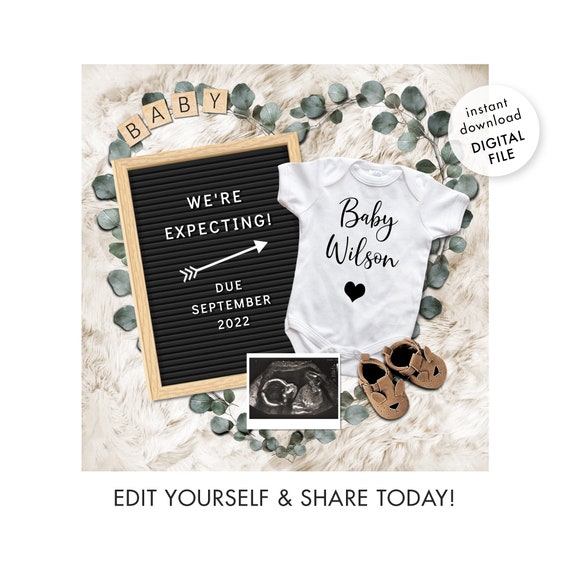 Digital Pregnancy Announcement. Social Media Gender Neutral
Share your big news with friends and family using this fun pregnancy photo prop kit. Baby announcement signs are a great way to add a little pizzazz to your photos and will give everyone a smile when they open your announcement. This set of 10 pregnancy photo prop signs
has a variety of family situations already printed on them. Simply choose the appropriate sign for your family status and then take adorable photos to send in your baby announcement. Save the rest for another occasion or share them with another person who confided in you and is ready to make their big reveal. Pregnancy announcement photo props are sure to be a hit with everyone!
Set of 10 Signs
Personalized with your due date month
Each sign measures 11.5" x 7.5"
Sign Sayings:
Big Sister in Training. Promotion Effective MONTH
Big Brother in Training. Promotion Effective MONTH
We're Having a Baby. Expected Arrival MONTH
Mom and Dad are Getting Me a Human
The Secret is Out – We are Expecting
Oh Baby – We Have Big News
And Then There Were Three
Baby Belly – Eating for Two
Beer Belly – Drinking for Two
Yep, Another One