How to Create Storage and Mudrooms for Small Spaces
Small spaces Mudrooms Laundry Rooms – Even if you have a small entranceway, an attached garage, or hallway you can easily create a storage area, sitting space or mudroom type of entrance for your space.  The first thing you need to decide on is where you want to create your entrance space and next measure it for either building or purchasing furniture, rugs, or storage solutions for the spot.  View Mudroom Furniture
Most hallways are small and cannot there is not much room for storage when entering a doorway.  You can easily resolve this issue by creating your own space for a hall tree with a storage bench or just a bench with added shelving above it and a few coat hooks.  The storage area does not have to be in the immediate hallway, instead consider using a spot right by your entry door to your home inside your garage. That is, if you have an attached garage.
Another idea is to place the storage as close as possible to an entrance way and create a pathway with rugs or tile to the sitting area, bench or storage.
Below are a few ideas to consider when creating the perfect storage or entranceway to your home.
Garage Entrance Ideas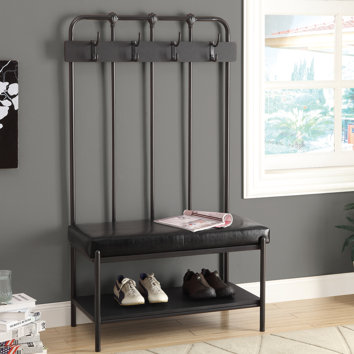 Monarch Specialties Inc. Metal Hall Tree with Bench
An inexpensive way to create a storage spot for your shoes, a place to sit and hang coats on is to use a simple metal type tree hall with a bench.  Because this is easy to wipe clean and is made of metal you can place it inside or right outside your garage entrance doorway.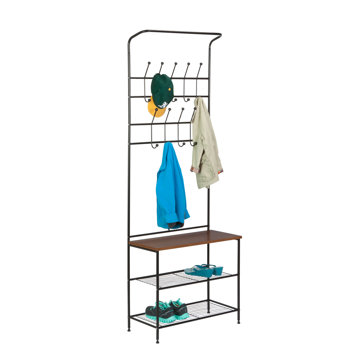 Honey Can Do Entryway Storage Valet Stand – This smaller stand works great also for indoors or inside the garage entrance.  It's smaller without the bench but can hold lots of items for the kids and garden.
Simple Storage and Seating Solutions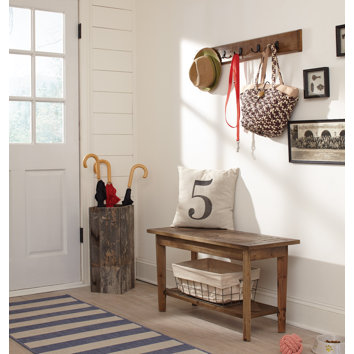 Laurel Foundry Modern Farmhouse Wall Mounted Coat Rack with Bench
A simple bench with a few coat hooks is an easy add to any hallway or laundry room area.  This will easily add some storage to your space by adding a couple of baskets underneath the bench and utilizing the coat hooks for additional items.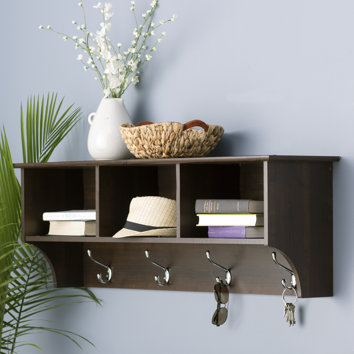 Latitude Run Penelope Wall Mounted Coat Rack
A wall mounted coat rack is ideal when you only have room on your wall and cannot afford to add a bench to your entranceway. This coat rack also has storage space for hats, gloves, keys and other items that you like to keep near the doorway.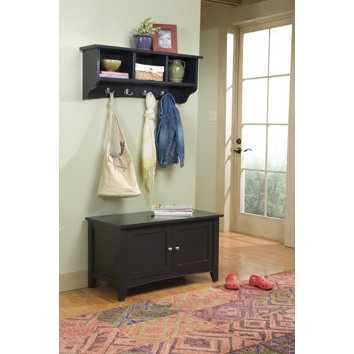 Bel Air Coat Hooks with Tray – Adding a small cabinet beneath the coat hooks creates additional storage.
Hall Trees with Storage Bench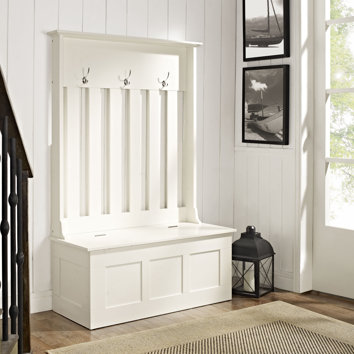 Alcott Hill Ellen Hall Tree with Storage Bench
If you have a bit more room at the bottom of a staircase or a larger foyer room you may want to consider adding a hall tree with storage bench. This give you a place to sit, store and hang your items and keep the area clutter free. A hall tree is also great for laundry rooms that need a facelift.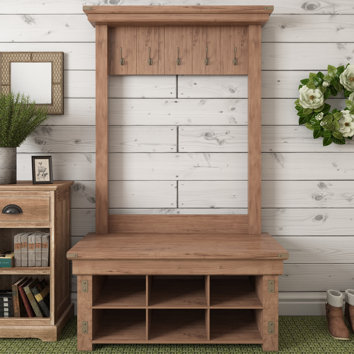 August Grove Irwin Wood Veneer Entryway Hall Tree with Storage Bench
This Storage bench provides more of a rustic charm with plenty of storage for shoes.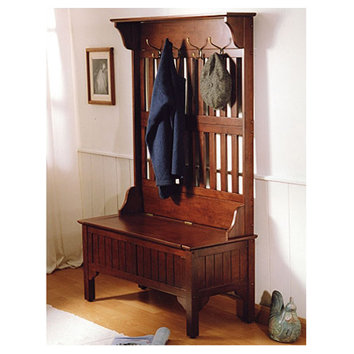 August Grove Mountain City Hall Tree Full Storage Bench – Here's an idea for something with a little bit of charm and adding a bit of arts and crafts style to the space.

Breakwater Bay Weymouth Hall Tree – A more simple storage solution with a great place for purses, books, and other items.

Milo 2-Piece Hall Tree – Bench and Hook Hall Tree Storage Solution
There are several different options for finishing off a mudroom, laundry room, hallway, front entrance or other location in your home to store shoes, books, coats, hats and other items that you need when leaving your house or for storage when you come home.
View all Entry and Mudroom Furniture, Entrance Storage, Hall Trees, and Benches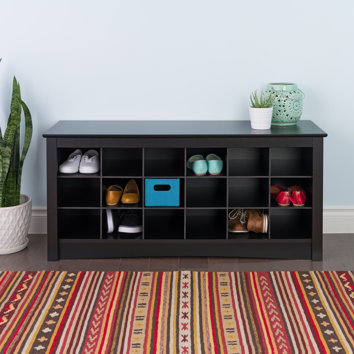 Andover Mills Sybil Shoe Storage Cubbie Bench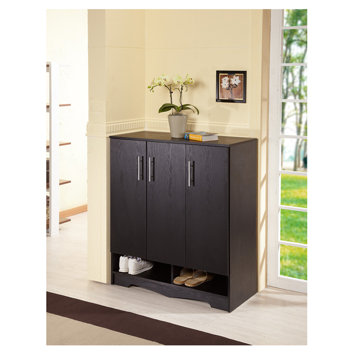 Wade Logan Francisco Modern 15-Pair Shoe Storage Cabinet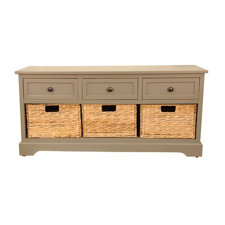 Breakwater Bay Lady Lake Storage Entryway Bench
Related Articles
How to Designs a Comfortable Nook for Reading or Crafts
How to Host an Adult Themed Coloring Party
How to Create Custom Wall Art with Photos