How to Make Your House the Best House on the Block this Halloween with Fun and Spooky Decorations
Halloween Decorations – Make your House the best on the block this Halloween! Use a little creativity and a whole lot of imagination to scare or create a comical Halloween theme for the outdoors!
We all know the house… the one with the best decorations, the spookiest lights, and the most unexpected scares. Wouldn't it be fun to be that house?
note affiliate links
Here's a few ways that you can decorate for Halloween. Animatronic Halloween props are a great way to achieve that spooky look for your entire house inside and out. Some are subtle while others are downright terrifying! Pair them with all our other big and bold Halloween decorations along with a fog machine, and you'll have an incredible look that will have the neighborhood talking.
Create a Spooky Halloween Graveyard
Spooky Skeleton Graveyard Scene will likely be the most frightening thing on the block, and while it will result in many screams, you're sure to have some brave souls willing to pass your treacherous lawn in pursuit of glorious candy!

Spooky Skeleton Graveyard Scene
Make a Funny Scene with Skeletons
Imagine you're a skeleton. You've already lived… and died. Now you have this whole eternity thing to deal with. What would you do with your (endless) time? Not sure what you would do, but we like to think we'd get outdoors with our best boney buds, have a frosty brew, play some fetch with the dog, and finish out the day with some lawn games
Take your party to the next level with Halloween decorations from HalloweenCostumes.com!
Shop now for Halloween makeup accessories.
Shop over 5,000 different Halloween accessories at HalloweenCostumes.com!
Shop baby costumes at low prices at HalloweenCostumes.com!
Shop kids costumes for everyday dress up or Halloween at low prices!
Get unique teen costumes for your next event!
Shop unique costumes for adults for dressing up or Halloween!
Shop the largest inventory of plus size costumes online!
Shop our inventory of exclusive costumes you won't find anywhere else!
Shop now for Ugly Christmas sweaters at HalloweenCostumes!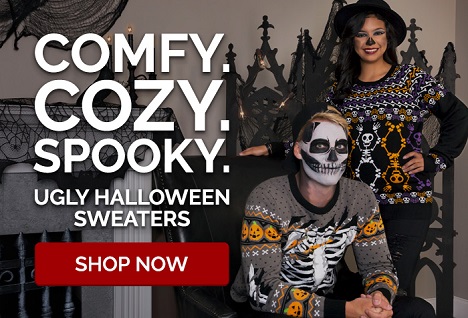 Related articles
Where to Find the Perfect Vintage Halloween Lace Pin Up Dress to Wear
Free Crochet Halloween Patterns
How to Make Your House the Best House on the Block this Halloween with Fun and Spooky Decorations
Halloween decorations
Halloween Costumes