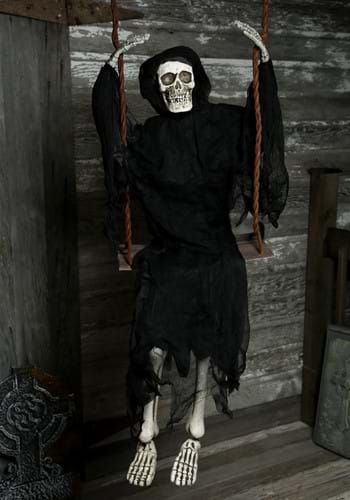 60″ Swinging Reaper Prop to Hang Outdoors
affiliate links
Halloween Decorations  – Grim Reaper is taking his fun to your own yard while he plays on the swing for Halloween fun.
Well, it looks like the grim reaper is done for the day and just wants to play on the swings!  Who would have thought that death himself would want to relax and have some fun? He would rather swing his worries away in your yarn for Halloween than scare others in the park.  
 There is nothing he loves more than feeling the wind rush by his skin less face. If you want to ensure that your soul won't be snatched by this deathly entity, we advise that you meet Mr. Reaper at the park and push him for a little bit. He'd love it!
Add this decor piece to your yard for some frightful fun. He's sure to give the neighborhood children quite the scare while simultaneously securing your spot in the scary yard hall of fame! Enjoy your Halloween with some fun and inexpensive Halloween decorations for you to use year after year for a fun trick or treat in your neighborhood. The kids will love the scary house with the grim reaper outside on the swing!
Mesh robe and molded foam skeleton face, arms, and legs
60″ tall and 17″ wide
Color may vary from shown photo
Wire hooks for hanging attached to swing rope

60″ Swinging Reaper Prop to Hang Outdoors — $39.99This Swinging Reaper Prop is big enough to scare the wits out of all the neighborhood children. Awesome!      

Order the Grim Reaper 
More Fun Halloween Outdoor Decorations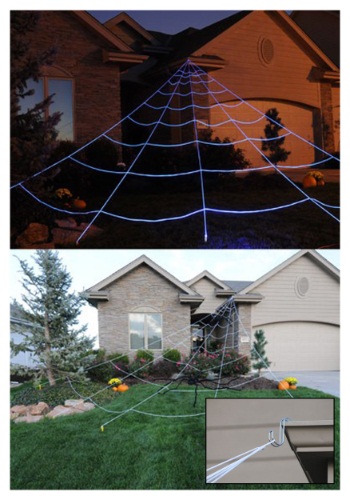 Mega Spider Web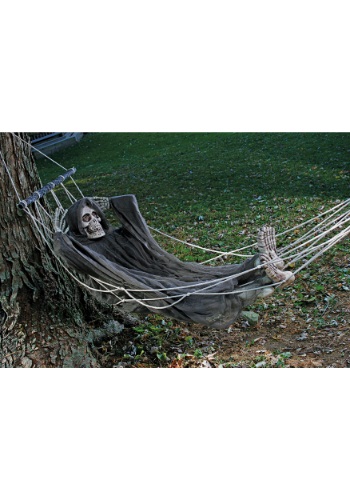 60″ Lazy Bones


Witchly Group Set of Three
Related Articles
How to make a Dollar Store Halloween Wreath
Halloween Cross Stitch Patterns
12 Seasonal Crochet Afghan Patterns