Benefits and Features: Grow 50 Plants & Vegetables in 4 Square Feet Compost & Garden in One Garden Tower Project
The Garden Tower Project allows you to grow plants and vegetables all in one container.

this post contains affiliate links
The Garden Tower Project is a great way to grow up to 50 plants and vegetables in one container.
You can easily compost and garden in one spot!
Plus it's a faster way to grow your garden and there is minimal upkeep and no weeding required! It can easily rotate for easy access and is great for small areas or large. You can keep it on your patio or in a yard. Watch how it works!
This is one of the best ways to create a stunning garden. It's non-toxic and you can even use turn your kitchen scraps into organic fertilizer.
Recently named the "Worlds Most Advanced Container Garden", the Garden Tower 2 features food grade USA-made HDPE (non-toxic, BPA & PVC free plastic) components, FDA-approved dye and UV-protection antioxidant package for health, durability and recyclability.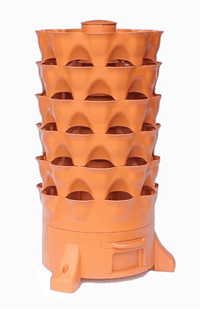 The rotating 

Garden Tower 2

is a composter that grows 50 plants in 4 square feet nearly anywhere.
Turns waste kitchen scraps to organic fertilizer to grow organic produce.
The Garden Tower replicates a natural ecosystem allowing plants to access nutrients recycled through organic composting processes.
Easily grow nearly any vegetables, herbs or flowers organically.
An organic and resilient 6 cubic foot vertical soil-based alternative to expensive and difficult hydroponic systems.
Proudly designed and 100% Made in the USA using 100% UV stable food-grade high purity HDPE plastic, and backed by a 5-year manufacturer warranty.
43″ tall & 24.5″ wide. 36 lbs. (~200 lbs. with wet soil)
✓ Grow 50 plants & vegetables in 4 Sq. Feet
✓ Compost & garden in one — nutrient rich gardening
✓ Faster growth than any other garden
✓ Minimal upkeep & no weeding required
✓ Rotates for easy accessibility
✓ Award winning innovation & design

Shop all Garden Tower Products
Related Articles
Perennials Made Easy! How to Create and Grow Amazing Gardens