Easy to Crochet Colorful Toaster Cover Pattern to Hide Your Toaster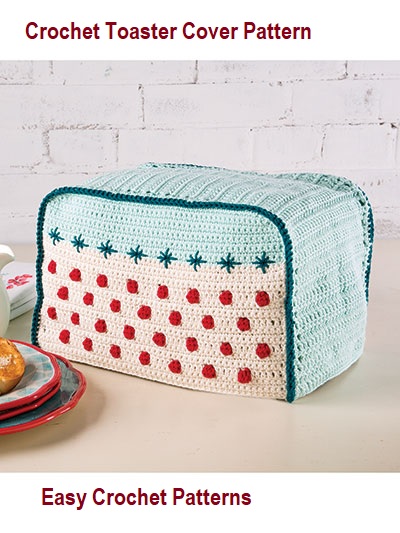 Easy to Crochet Toaster Cover Pattern
Note this pattern is available to download here in the Crochet Magazine issue
The easy to crochet Toaster Cover pattern makes it easy to hide your toaster in plain site. Hide your toaster with this colorful crochet pattern. Crochet a toaster cover that you can crochet with simple single crochet and embellish it with simple stitches. Use your favorite colors of yarn to match your kitchen or make the crochet pattern as show in the photo.
Note this post contains affiliate links
Four colors of worsted-weight cotton yarn
make up this cute design. It is stitched using a size G/6/4mm crochet hook. Size: 12″L x 8″W x 8″T.
Download the Easy to Crochet Toaster Cover Pattern
This Pattern is also available in the Crochet World Magazine
Crochet the Toaster Cover Pattern is also available to download in this issue of Crochet World Magazine along with several other crochet patterns. The patterns include A fun collection of pot holders, place mats, towels (and more) are shown in cherry red, turquoise and mint green to add a homey feel to any kitchen! Of course, you can create these fun projects in colors to match your kitchen as well! Over 20 projects are included, such as a gorgeous lacy tee, a beautiful sunflower thread doily, a basket, 3 afghans, 2 projects for Baby and much, much more!
Download Crochet World Magazine and the Toaster Cover Crochet
Crochet Colorful Toaster Cover Pattern to Hide Your Toaster
Crochet a Toaster Cover Pattern
Easy Crochet Patterns for the Kitchen