10 Easy to Memorize Crochet Patterns – Crochet Weekend Textured Lap Throws

eBook Make in a Weekend Textured Crochet Throw
Sometimes you just need a quick and easy afghan pattern to crochet that you can memorize and use over again when in a pinch. The Make it in a Weekend Textured Lap Throws are perfect for your last minute crochet needs.
No matter what size your crochet hook or yarn you can easily crochet a throw or afghan in one weekend. There are 10 different crochet afghan patterns
that you can crochet and make right now!
Note this post contains affiliate links

Leisure Arts Make in a Weekend Textured Lap Throws Crochet Book
 Work up these textured lap throw patterns in a flash. Use a varied range of bulky yarns and large crochet hooks. These 10 easy-to-memorize patterns from Rita Weiss will have you making throw after throw. Give as gifts to friends or family, since they're so easy, you can make them in a weekend! Cuddle up in the perfect cozy companion as you read your favorite book by the window or binge your favorite TV show on the couch.
Designs include Shining Shells, Wonderful Warmth, Sensational Stripes, Lacy and Warm, Perfect in White, Glorious in Green, Sophisticated Clouds, Warm and Wonderful, Truly Elegant, and Bright and Beautiful. If you want to make a warm wrap for someone special but don't have the time, this book is perfect for you.
10 Easy Ways to Memorize Crochet Patterns
Learning crochet patterns can be a rewarding experience, but for beginners, it can also be quite challenging to keep track of stitches, repeats, and rows. However, with a little practice and some helpful techniques, memorizing crochet patterns can become a breeze. In this blog post, we'll explore ten easy ways to improve your memory and crochet with confidence!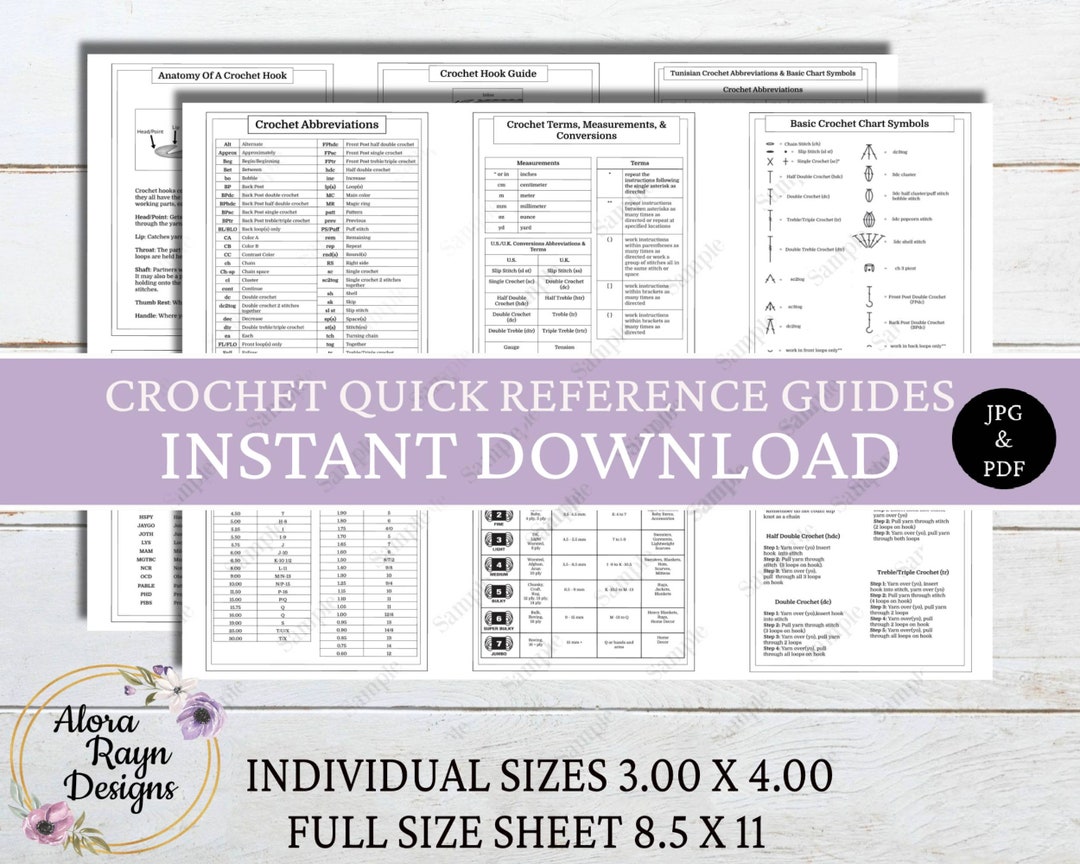 Printable Crochet Quick Reference Cards Printable Crochet
Start with Simple Patterns:
When beginning your crochet journey, opt for simple patterns that have a limited number of stitches and repeats. Mastering the basics will help build a solid foundation, making it easier to memorize more complex patterns later on.
Understand Pattern Structure:
Take some time to study the structure of crochet patterns. Recognize the abbreviations, symbols, and terminology used. This will make it easier to interpret patterns and understand the instructions.
Read the Pattern Aloud:
As you read the pattern, say the instructions out loud. Engaging both your eyes and ears will reinforce the information and help commit it to memory more effectively.
Visualize the Stitches:
Before starting, visualize each stitch in your mind. Imagine how they look and where they should be placed. This mental preparation can make it easier to follow the pattern as you work.
Break it Down:
Divide the pattern into smaller sections and tackle one at a time. Concentrating on small portions will prevent overwhelm and make memorization more manageable.
Use Memory Aids:
Create memory aids that represent different stitches or repeats. For instance, you can use colorful markers or sticky notes to label sections of the pattern and highlight essential parts.
Practice Makes Perfect:
Practice the pattern repeatedly. The more you crochet the same pattern, the more familiar it will become, and you'll be less dependent on constantly referring back to the instructions.
Teach Someone Else:
One of the most effective ways to solidify your knowledge is to teach someone else. Show a friend or family member how to crochet the pattern, explaining each step as you go.
Write it Down:
Rewriting the pattern in your own words can enhance your understanding and retention. Translating the instructions will help you internalize the process.
Relax and Take Breaks:

eBook Learn to Crochet – $5.99
Crochet is a timeless skill that's easy to learn and always perfect for making the latest accessories. With right- and left-hand diagrams, Learn to Crochet teaches the basics of crochet while you are making a coaster. Then five more easy projects (a spa
Crocheting can be relaxing, but it requires focus. Take regular breaks during your crocheting sessions to give your brain time to absorb the information. Avoid trying to memorize a pattern when you're stressed or exhausted.
Memorizing crochet patterns may seem daunting at first, but with dedication and practice, it will become second nature. Remember to start with straightforward patterns and gradually progress to more complex ones. Use visualization, repetition, and memory aids to reinforce your learning, and don't forget to take breaks and enjoy the process. As you become more adept at memorization, you'll find joy and satisfaction in creating beautiful crochet projects without constantly relying on the pattern. Happy crocheting!