How to Create a Personal Love Story Book for Valentine's Day

Personal Love Story
Here is how you can give the most personalized Valentine's Day gift ever to a loved one and it's so easy to create! You can make a book with just 3 easy steps. You can create characters, select book covers, and personalize each page to fit your story.
Whether it's your first Valentine's Day or your 60th together this is a unique way to make it more special and find the perfect gift.   You Valentine will love reading your special message to them that you create in your own Love Book.
You can create a book for Valentine's Day, birthdays, anniversaries, and more!  How it works it that you take your perfect love story tell it here and they take care of the rest.  Each story is custom and made for you and your loved one.
Create Your Own Personal Love Story 'Just Because' You Are In Love
Everyone has a unique love story. The LoveBook
Book Building System lets you tell that story by
listing all those special reasons why you love them.
CHOOSE A COVER & EDIT THE TITLE
MAKE YOUR CHARACTERS LOOK LIKE YOU
CHOOSE PAGES AND PERSONALIZE THEM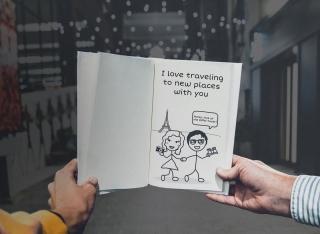 How This Works | The Personalized Gift Book That Says Why You Love Someone
Create A Personalized Birthday Gift That Tells Them All The Reasons Why You Love Them
Pop The Big Question With Your Personal Love Story
Learn More or Order Your LoveBook Here
Related Articles